Women Artists and Their Masterpieces

By Jean Leibowitz and Lisa LaBanca Rogers
Learn about art by looking at art by women!
It's that simple. Classic art history books tell the story of painting through art by men. We wrote Discover Her Art to offer a different story: a history of painting using 24 works by women. We want these works and their artists to become as inspiring and familiar as Degas and Da Vinci. The book is designed for readers age 9 and up.
Each chapter of Discover Her Art focuses on a single masterwork and the artist who created it.  Through paintings that range from  16th century portraiture to 20th century abstraction, readers learn how artists use composition, color, value, shape, and line. Through brief biographies, readers gain insight into the 24 artists' inspiring achievements and the difficult challenges they faced. Ten hands-on exercises inspired by the artworks round out the book.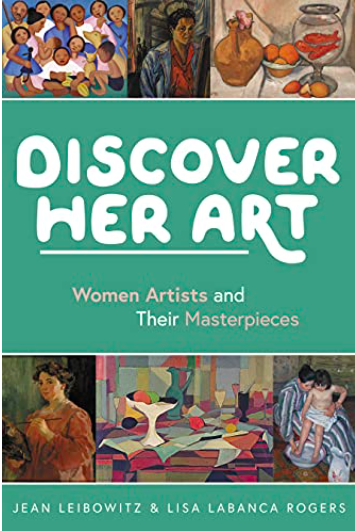 Coming March, 2022 from
​Chicago Review Press!
How many women artists from before 1960 can you name? Click here to discover who is in the book!
Lavinia Fontana
Artemisia Gentileschi
Rachel Ruysch
Adelaide Labille Guillard
Rosa Bonheur
Berthe Morisot
Mary Cassatt
Cecilia Beaux
Luisa Vidal
Angel DeCora
Suzanne Valadon
Paula Modersohn-Becker
Tarsila do Amaral
Laura Wheeler Waring
Amrita Sher Gil
Yuki Ogura
Angelina Beloff
Lois Mailou Jones
Maria Izquierdo
Amelia Pelaez
Maria Leontina
Pan Yuliang
Alma Woodsey Thomas
Joan Mitchell
Jean Leibowitz
That's me—I'm an artist and writer and I focus on landscape and portrait painting. This is the first art book I've written.
Lisa LaBanca Rogers
Lisa is an award-winning children's book author and has also written many magazine articles about artists. www.lisarogerswrites.com
"Discover her Art is a brilliant guide to understanding how a painting does what it does…All the activities achieve that rarity: a fun deep dive into how an image is made, and a creative moment of learning by doing. Fabulous for both the experienced professional…and the young artist just starting out."
"This book triggers the desire to see, the joy of discovery, and the thirst for action! The careful selection of images conveys to the reader the diversity of the great achievements of women artists over the centuries up to the modern age…With the wonderful works of art, the valuable hints on perception, and the thoughtful instructions for do-it-yourself, the authors encourage the reader to dive deep into the world of images and image-making."
"Imagine exploring an exhibit of women's paintings with the most captivating guide who brings to life the story of each artist and their artwork. Each chapter will transport you to a different time and place, encourage you to spend time absorbing and understanding the work and the woman behind it, and possibly even inspire you to create your own artwork."
Like most artists, I am always running into visual problems, and am constantly turning to historical masterpieces for inspiration and solutions. A few years ago I got very tired of getting all my answers from paintings by men. Why couldn't I find more historical art by women? When I tried to think of historical role models that were women, the timeline of art history suddenly went blank. I could only think of a handful: Gentileschi, Cassatt, O'Keeffe, Kahlo, and Neel.
So I started looking more diligently for historical women artists—and, spoiler alert, I found them! The history of painting was not made by men after all. Women have been right there the whole time, learning their craft, selling their work, breaking new ground. I was thrilled, but also sad. I wish I'd known about all of them when I was younger. I approached Lisa LaBanca Rogers about collaborating on a book for young readers and was thrilled when she joined in. Together, we spent many months exploring paintings by women. We set several intentions: select the very best work we could find, cover major art periods, and select a diverse group of influential artists. While Lisa focused on researching and writing the biographies,  I wrote the art essays and the activities. At first, Lisa and I weren't sure we would find enough material. Ultimately, we had to make some hard choices about who we had room to include.
Now that Discover Her Art is done, I can't believe how much I learned from this project. The women we studied will influence my art for years to come. I'm so happy I now feel grounded by a historical community of fantastic women artists. Every time I pick up my brush, they are all right there with me.